Are you looking for a way to protect your car's paint without putting an unsightly cloth bra on the front of your car or having a clear bra (clear protective film) installed over your paint? If you answered yes, a ceramic coating may be the answer. However, before you choose to have a ceramic coating painted onto your car, you probably want to know what it is and how long it protects your paint.

What Is Ceramic Coating?
A ceramic coating for cars is sometimes referred to as a nano-ceramic coating. It is a clear industry-grade polymer solution that is painted over your car's existing paint and clear coat. Of course, if you were to ask your car detailer or mechanic, they'd probably say it's just another layer of clear coat. The reality is that it's a durable alternative to waxing your car that helps preserve your paint by preventing stains, dirt, grime and bugs from infiltrating the surface. In other words, it extends the useful life of your paint and keeps your car looking newer longer.
What Are The Advantages Of Ceramic Coatings?
Ceramic coatings are considered either permanent or semi-permanent, depending on how long they are designed to stay on your car. In general, any coating that lasts five years or longer is considered permanent, while any coating that lasts less than five years is considered semi-permanent.
Ceramic coatings are typically hand-painted over your car's existing paint job. As the coating is applied, it blends in with the existing surface, filling in any microscopic holes, bumps and ridges to create an extremely smooth surface that is high gloss without the need for waxing.
Once the coating is dry, it protects your vehicle's paint from harmful UV rays that can cause it to oxidize and fade over time. This means that if you don't have a garage and store your car outside, you no longer need to put a car cover over it to protect it from the sun.
If you live in a busy city with lots of air pollution, you no longer have to worry about chemical stains appearing on your car and damaging the paint. In other words, it protects your car from acid rain, which is any rain that contains acidic components, including sulfuric or nitric acid.
It makes washing your car a breeze. Since dirt, grime and bugs don't grind themselves into your paint, washing all the dirt and debris off your car's exterior surface is quick and easy. Installing a ceramic coating also means that you don't have to wax your car to maintain the high gloss of the paint.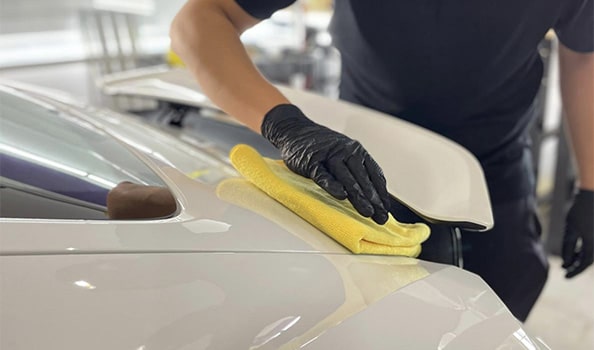 How Long Do Ceramic Coatings Last?
When it comes to answering the question of how long ceramic coatings last, the short answer is that it depends on the type and brand. In general, Ceramic coatings usually last between two and five years. Here at Monster Auto Lab, we offer ceramic and graphene coatings from EXPEL and Revivify.
Ceramic Coatings We Use and How Long They Last
XPEL Fusion Ceramic Coating – 4 years
Revivify 2 Year Ceramic Coating – 2 years
Revivify 5 Year Ceramic Coating – 5 Years
Revivify 5 Year Graphene Coating – 5 Years
Choosing your ceramic coating package and how long you want the coating to last is easy at Monster Auto Lab. We are upfront when it comes to how long you can expect the ceramic coating to provide your car's paint with protection, and all of our ceramic coatings come with either a 2 or 5-year warranty. Our basic, 2-year warranty ceramic coating package includes coating all the exterior paint, the windshield and your headlights and taillights. Our 5-year warranty ceramic coating includes all exterior painted surfaces, the windshield and front two side windows, exterior plastic trim, the wheel faces and the headlights and taillights.
To learn more about our ceramic coatings and how long they last as well as our other services, including paint protection film, paint corrections and auto repair and service, contact us today.