Is Paint Protection Film Worth It?
It's always a good move to invest in protecting something valuable. That's certainly the case with cars, particularly with their paint. The appearance of your vehicle is always under attack from weather, sun, and road debris. There are countless options on the market for protecting the paint on your vehicle, including paint protection film.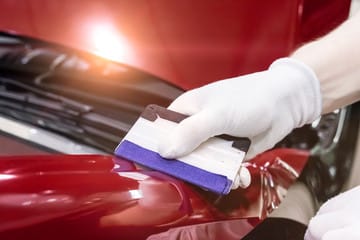 What Is Paint Protection Film?
The concept of paint protection film is very simple: It's a thin, clear layer of polyurethane that protects the paint from fading, chipped, and peeling. Unlike simple products like automotive wax that you apply yourself, paint protection film must be applied by a professional such as the automotive pros at Monster Auto Lab. It goes on in much the same way that window tint is applied, which means that it is especially important to use an experienced team that will get the material applied without bubbles, wrinkles, and loose corners. Monster's team is trained, experienced, and equipped to apply the material properly so that you get the maximum protection and best possible appearance.
The Advantage Of Paint Protection Film
Before investing in a product like this, you should determine whether it's worth it for you. Paint protection film includes a 10-year warranty that covers damage to the paint. This is a great selling point when you're ready to put your vehicle on the market! Paint protection film adds value to your car by assuring the new buyer that the paint will look better and last longer.
You'll also see a shinier, more beautiful finish on your car. The film maintains a smoother surface than even the factory paint, providing that striking, glossy appearance that every car owner loves. Just the shine alone makes paint protection film worth it.
There's a simple reason why these factors matter. Paint protection film does a great job of protecting your paint from minor damage like light scratches and rock chips. You'll also be able to avoid damage from car wash brushes and other maintenance work. Your automotive finish will stay closer to factory-new for years to come, keeping your car looking showroom-fresh.
Fading prevention is another major reason why PPF is worth it. Over time, automotive paint fades, making it impossible to match it if your car ever needs body work. When you let the experts at Monster Auto Lab apply paint protection film, that factory color will last longer and make it easier to do touch-ups and repairs later on.
So What's Our Final Response On Is Paint Protection Film Worth It?
Every dollar you put into your personal automotive budget should pay you back. If it pays for itself, it's worth it. The team at Monster Auto Lab has seen lots of cars come and go, and without question they can tell you that paint protection film extends the life of automotive paint so beautifully and so reliably that it is definitely worth it.
Talk to the team at Monster about having PPF applied to your vehicle. They'll be able to walk you through what it can do for the beauty and durability of your paint and explain the details of the 10-year warranty so that you can make an informed decision before pulling it into the bay.
Your car is not just a way to get from place to place. It's an investment that should be protected. PPF is a great way to take care of automotive paint and keep it shining and beautiful for years to come, even after you trade it off. Every time you finish washing your car or just head up the coast with a beautiful shine, you'll see that PPF is worth it.