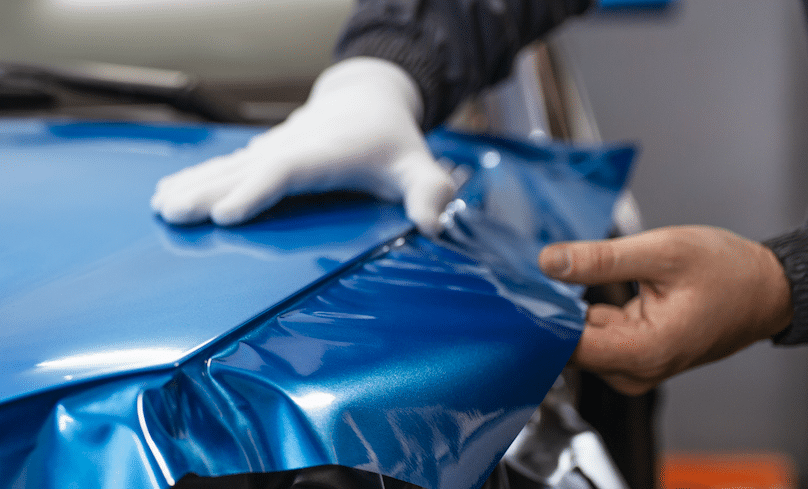 Car wraps offer a viable alternative to the classic full-body paint job, which can be time-consuming and expensive. This is a great way to get a custom look for the car and maintain a high-quality image. As a secondary benefit, this can promote a particular brand, logo or business brand. Review each of the pros and cons of car wraps.
What is a Car Wrap, How Does it Work?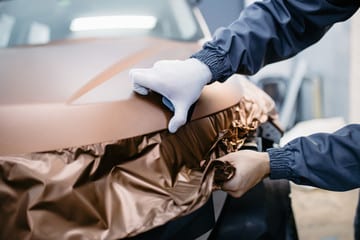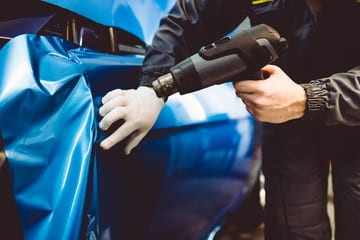 Car wraps can be the ideal solution for business vehicles. Car wraps makes your vehicle stand apart from the crowd. It makes a statement about your style on the road. There are several important pros and cons to consider for vehicle full wraps, partial wraps or smaller decals. Talk to your shop about all options including any pros and cons.
Vinyl car wraps are capable of withstanding many of the common rigors of daily life. This ensures that your vehicle will maintain a spotless appearance while saving money on the costs of a professional paint job. When car wraps are done properly, the results can last you for many years. The materials protect the vehicle from damage from the sun and other elements.
Car wraps can be done quickly and easily, and this can help you to keep the car looking great throughout its entire lifespan. Car wraps work through a process of creating a unique design for the vehicle. This is also a customized solution that will fit the precise dimensions of the vehicle because it will be measured.
During this process, car must go through a complete cleaning or detailing before the vinyl sheets are applied. Any shortcuts might result in particles creating bubble pockets after the wrap is applied. The quality of the materials used in wrapping the car creates a pristine finish. This enable the final result to be competitive against painting work on the body of the car.
Pros of Car Wraps
There are many pros in having the car wrapped, and this includes obvious benefits like enabling the car to maintain its resale value, for example. However, the pros should also be weighed against the cons in order to make your decision. If you're struggling to decide whether to get a vehicle wrap or a professional paint job, this list of pros might prove to be helpful.
1. Personalize the appearance of your vehicle: This is a big pro because it's an economic way to make your vehicle stand out from the crowd. The customized body can accommodate any design, pattern, color scheme, logo or other unique flourish.
2. Prevent downtime: It can take weeks to get a proper paint job done on your car. In addition to the sanding, primer and paint drying time, you will also have to wait for the shop to start this process; vehicle wrapping can be done in a couple of days.
3. Save money: Wrapping a vehicle provides many of the pros that you can expect from getting a custom paint job, but it comes at a fraction of the cost. This ensures that your first impression is dynamic and polished while preventing your wallet from being emptied in the process.
Cons of Car Wraps
Car wraps might come with some cons under certain conditions, so it's important to review this information in order to make an informed decision. In addition to the top three potential cons in the list below, also consider that the typical car wrap has a life span of around 2 to 5 years. This amount of time assumes that the vehicle is being properly maintained.
1. Wrapping isn't always the appropriate solution: There are cases where vehicle wrapping isn't the best solution. This can include instances when the car has underlying damage, for example.
2. The appearance of wrapping: There are some cons to having people you interact with noticing that the vehicle is wrapped; it's clearly not a paint job. However, if this is a conversation that you enjoy having, considering that your car is the topic, it might not be much of an issue.
3. Quality: Car wraps can save you money and time compared to getting a professional paint job, and you might end up getting second-rate results. Inexperienced wrappers can leave visible marks or even scratches on the car; these defects won't be visible until the wrap is removed and it's too late.
Should I Get My Car Wrapped?
Monster Auto Lab provides high-quality work for anyone interested in getting a customized look through car wraps. There is a right wrapping solution for every situation, so the best course of action to take is to contact our professionals. We can advise you about the various wrapping solutions that will meet your needs, ensure that the results are top-notch and provide you with an affordable alternative to expensive paint jobs. Enjoy the benefits that come from high-quality car wraps from our company. Let Monster Auto Lab turn this vision of your vehicle into a reality; contact our shop today for more details.